Doorknob Cover, 4 pk.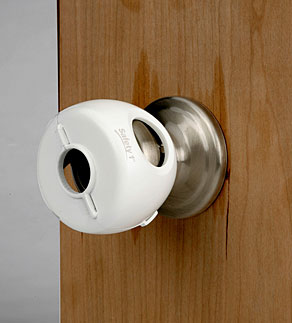 Doorknob Covers
Help keep toddlers from "off-limits" rooms or from locking themselves in rooms with our Safety Doorknob Covers. Adults can open doors by tightly gripping the door knob through two exposed points on each side and turning. Fits standard style doorknobs. Glows in the dark for nighttime use.

Doorknob Cover, 4 Pack (P/N 48394)
Made by Safety 1st


Doorknob Cover, 4 pk. Item # 6382
$5.98

AVERAGE OF 1 USER RATINGS
CUSTOMER REVIEWS
Doorknob safety
Posted by maggied from Sherman Oaks, CA on 03/10/2011
Experience with Product: I have used it
"effective - sometimes hard for me to open door - annoying. do not lotion your hands before trying - ...Read Full Review"