Welcome to Safe Beginnings® Online!
About Safe Beginnings®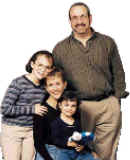 In 1988, the founders of Safe Beginnings®, Inc., Susan and Jeff Baril, became parents for the first time. Although they were aware of the need to childproof, they were still caught off-guard when their baby began to crawl. In quick response, they set out to find childproofing products to make their home safe for their new baby. After numerous shopping trips they returned either empty handed or dissatisfied with their purchases. Realizing they were not alone, the seeds were planted for the start of their business, Safe Beginnings®, which was established in 1991.
Safe Beginnings®, Inc. has been featured as a resource for parents in many well-known publications as well as on television, radio and the internet.
Some of these appearances include:
American Baby Magazine
The American Baby TV Show
Baby Magazine
The Boston Globe
The Boston Globe Magazine
The Boston Parents Paper
Burlington Times-Union
Channel 5
Channel 7
Child Magazine
Good Morning America Website
Healthplan Magazine
The New Parents Sourcebook
The New York Times
Parents Magazine
South Shore Baby Journal
The Triplet Connection Newsletter
The Virgin Homeowner
WBZ Radio
From offering a childproofing service, to a mail order catalog, to a wholesale division, to the internet, Safe Beginnings® has always been concerned with providing the best in quality and service. The company is committed to keeping families safe and making parenting more convenient and enjoyable with the largest selection of well-designed, durable childproofing products, popular baby care accessories and home safety items.
About Safe Beginnings® Online
As parents we know first-hand the importance of selecting safe, durable products that offer good value. Those of you already familiar with Safe Beginnings® will notice that our online catalog offers many new and exciting products unavailable in our print catalog. There's more immediate access, too. You can shop anytime and you won't have to wait for a catalog to arrive in the mail!
As always, Safe Beginnings® features the largest selection of childproofing products, the most popular baby care accessories and many family safety basics designed to withstand continual use. We continue to search for new items to help keep loved ones safe and make family time even more enjoyable!
We carefully select and put forth every effort to earn your respect and trust. Here's how we do it:
One-stop shopping–Enjoy hassle-free, one-stop shopping from your home, 24 hours a day, 7 days a week. No more driving from store to store with tired, hungry kids!
Great selection– We offer a wide range of products and a variety of colors and styles. From the best selection of childproofing products to baby care accessories and home safety basics. Check it out!
Same day shipping–When your order is received by 1 p.m. E.T., we ship it the same day.
No-hassle exchanges and returns–We make every effort to assure that your purchase will be satisfactory. However, you may return unused items in new and resalable condition within 45 days. (See page with ordering information for details and restrictions.)
Knowledgeable assistance with selecting and installing products–Our website offers a lot of added value such as a self-help library to guide you through product selection, installation tips and advice and a list of frequently asked questions. Need additional help? Ten years of childproofing experience enables us to offer expert assistance. Just call our toll-free customer service line for help with product selection and free technical support for the items you purchase from us.
So, browse through our online catalog. We're sure you'll find shopping with us to be a convenient and pleasurable experience.
Safe Beginnings!


www.safebeginnings.com
1-800-598-8911